Gutter Clearing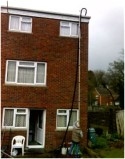 All over Scotland property owners have become increasingly aware that having their gutters cleaned is an absolute necessity.
Every year leaves, moss, dead birds, old tennis balls, bird droppings, and what can only be described as 'stinky sludge' gets washed off the roof into your gutters. This can build up at an alarming rate and will cause damage to your property.
Don't waste any time in letting Gordons return the natural flow to your business with a complete clean of your gutters.
http://www.hse.gov.uk/falls/gutter.htm
No other method comes near the performance of Gordons Gutter Cleaning System!
Features:
Free Site Visit
Fixed price quote
Guaranteed results
Full Heath and Safety Compliance
Safeguard your building
Perth and Kinross Council have heightened the awareness of the importance of safety in the workplace due to the amount of injuries and injury related deaths reported in the UK that were due to falls from no greater than one metre. Sensible and responsible property owners are refusing to take that risk and now only use experienced reputable and licensed companies.
Our experienced gutter cleaning team protects your property by keeping your gutters free from debris and allowing the rainwater to flow safely away. The gutters are cleaned from the ground, which means there are no ladders to fall from, no scaffolding to ruin your landscaping and no damage to your property.
Gordons only use the latest equipment available, which has been fully endorsed by the HSE.
Now you too can have the gutters of your property cleaned by professionals.
Please contact us for more information or your free quotation
Top Tips for Gutter Cleaning:
Use appropriate equipment. You could use equipment that will allow you to do the job from the ground.
If you need to work at height use the right equipment for the job.
Know what you are doing. Get trained and only work with trained people. If you hire access equipment, know how to use it.
SAFE AND EFFICIENT GUTTER CLEANING
Gutters direct rainfall away from buildings to protect the outer skin of the property together with the foundations. Gutter cleaning helps avoid costly repairs and roof damage. Gutter systems should be ideally thoroughly cleaned twice a year.
Gordons use the award winning GutterVac system which has revolutionised the method in which gutters are cleaned.
SURVEYING
Firstly, a survey can be carried out using our remote inspection camera at heights up to 20 metres to establish the areas of guttering that require cleaning. A recording of the survey, both before and after the clean, may be made and replayed directly from the monitor to show interested parties or the survey recording can be imported onto a computer and a DVD burned. The DVD may then be date stamped and passed to you for future reference (i.e. Insurance Claims).
Our remote inspection camera survey will, if you wish, record other problems with the building structure that could not otherwise be seen without scaffolding or ladders - for example missing roof tiles and pointing, loose brickwork etc.